About us
Japan Congress & Convention Bureau (JCCB) is a professional body to promote the organization of MICE (Meetings, Incentive tours, Conventions and Events) in Japan.
JCCB, originally established in June 1995 was incorporated on June 25, 2009.
JCCB activities are as follows.
Management of Member Organizations
JCCB membership consists of convention bureaus and MICE-related corporations.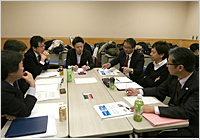 International MICE Expo (IME)
IME is Japan's largest scale annual trade mart and networking event, jointly hosted by JCCB and the Japan National Tourism Organization.
IME is organized every year for MICE planners to provide the latest practical information required to hold MICE events in Japan.
Training Seminars
The following committees conduct a series of activities.
Convention Bureau Committee
Convention bureau members meet twice a year to exchange opinions and information.
Private Sector Partnerships
●MICE Competencies Training Seminar (MICE Seminar)
Training seminars are implemented twice a year for the improvement of the skills and networking of JCCB members.
Human Resources Development Committees
●Training Seminar for the Development of Human Resources
Training seminars are organized once a year.
Survey on Intention to Host Conferences and the build-up of the database
JCCB implements a survey through a questionnaire sent to convention organizers about their intention to host meetings in Japan. Results are compiled onto a CD-ROM which JCCB distributes to members. This enables members to get hold of the latest information on academic and industrial association meetings.